Using multiple websites, applications, and other tools to manage the appraisal process across multiple appraisers and AMCs adds time-consuming and unnecessary overhead. Think about all of the different processes and systems used to order, track, manage, report, and pay a vendor or vendors for a single appraisal. Now extrapolate that across all of the appraisals your business is managing. Looking at the big picture, you quickly realize this model is not efficient, effective, or sustainable. Consolidating all appraisal vendors onto a single appraisal management platform could be the answer.

We know it can be hard to justify the change to a single appraisal management platform when you're used to the status quo. But moving to a central hub for all appraisal orders, vendors and products is easier than you think and comes with significant benefits.
Bringing all of your appraisal vendors and products onto one platform can help you streamline your business, reduce turnaround times, increase efficiency, improve the consumer experience, and expand market share. Let's explore five key benefits of an appraisal management platform.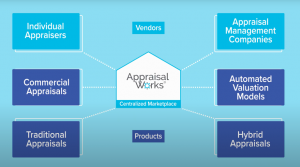 Creates a single source of truth for all appraisal vendors and products. Rather than have your teams log in and out of various AMC websites or dig through emails, spreadsheets, and collaboration tools to collect information from individual appraisers – all vendors and stakeholders are connected to a configurable SaaS-based appraisal management system. Consolidating vendor relationships onto one platform allows your team members to order a variety of appraisal products, including commercial appraisals, traditional appraisals, hybrid appraisals and automated valuation models from the best appraiser or AMC per loan – all from a single system.
Integrates directly with your loan origination system (LOS). Most lenders prefer to operate directly out of their LOS. An appraisal management technology platform (such as AppraisalWorks) connects into your LOS of choice. From the LOS, you can then quickly create a new loan application, check the status of an appraisal, view completed appraisal orders and run analytics to determine how quickly your vendors are able to fulfill an appraisal order. Ordering all of your appraisal services through a single platform simplifies and automates the entire process.
Facilitates internal and external collaboration. Vendor consolidation centralizes all internal and external communication on one platform. Your team is no longer searching through emails, spreadsheets, and system records for the most up-to-date status of an appraisal order. An online collaboration platform gives lenders, processors, appraisers, and borrowers the ability to work together using synchronized communications and gives all parties the visibility they need to stay informed and ensure any action on their end is completed in a timely manner.
Easily tracks and pays vendors. Your time should be spent doing what you do best – delivering the best loans to your clients. Leave the administrative overhead of invoices and payments to your appraisal management system by adding payment processing to your workflow. A highly configurable appraisal management system will enable you to establish business rules that allow your team to request and approve payments in one system, closing the loop from appraiser selection to order completion and ensuring your vendors get paid on time.
Enables robust reporting for data-based decision making. It's next to impossible to understand all of the moving parts of your business if you're leveraging multiple systems and technologies to manage your vendors and products. Appraisal management technology focused on vendor consolidation allows you to bring together all of your appraisal orders from various AMCs and appraisers into interactive dashboards – giving you a complete view. You can put together customizable reports that drill down into order cycle times, trends by region, types of loans, best performing AMCs and appraisers and other critical appraisal management data.
It's time to get control over your appraisal management function and consolidate all of your vendors onto one platform. If you're exploring investing in an appraisal management platform, check out our whitepaper, "Choosing the Right Appraisal Management Platform," which offers tips for evaluating and selecting the right appraisal management technology vendor for your business. Or contact us directly to talk about your unique needs.