The real estate appraisal industry in 2021 can best be described as dynamic. Keeping up with the pace of change and responding to rising housing costs, a shrinking housing market and everchanging health and safety mandates kept lenders on their toes. It often felt as one challenge was resolved, three more surfaced.
As we pause to reflect on the past year, it's clear some changes are here to stay. So, as we start 2022, let's bid farewell to the old and embrace the new.
What's in and What's out in 2022: The Appraisal Management Checklist
What's in: Freeing up time and resources to focus on high-value, revenue-generating projects.
What's out: High overhead costs that drain resources across your organization.
What's in: Confidence your appraisal management data is accurate, and you are making the most informed decisions.
What's out: Constantly questioning valuation data and feeling uneasy making loan processing decisions with the information at hand.
What's in: Expanding to new regions and embracing new business opportunities.
What's out: Passing on business because your appraisers do not cover certain geographies or territories – like rural or suburban markets.
What's in: A single appraisal management platform that encompasses your entire appraisal order lifecycle.
What's out: Managing multiple spreadsheets, AMCs, point solutions, email exchanges and other forms of documentation to reference and reconcile appraisal order data.
What's in: Appraisal process automation supported by scalable technology configurable to your business needs.
What's out: Dated processes constrained to technology not equipped to handle your growing business.
What's in: Embracing and implementing a scalable appraisal management platform that allows you to transform real estate appraisal management from costly overhead to a strategic business function.
What's out: Constantly feeling frustrated by limited technology and outdated processes.
If 2021 has taught us anything it is that change is constant, and businesses must evolve to keep up with the pace. Agility, scalability and better business decisions are achievable by examining the technologies, systems and processes you have in place and understanding what is hindering your success.
The digitization of the mortgage process – including the appraisal management function – is no longer a nice-to-have.
Eighty-one percent of executives polled a Forbes Insights Survey say they are aggressively (40%) or very aggressively (41%) pursuing mortgage process digitization.
Is 2022 the year for transformative change in your business? Are you ready to use appraisal management technology to gain a competitive advantage?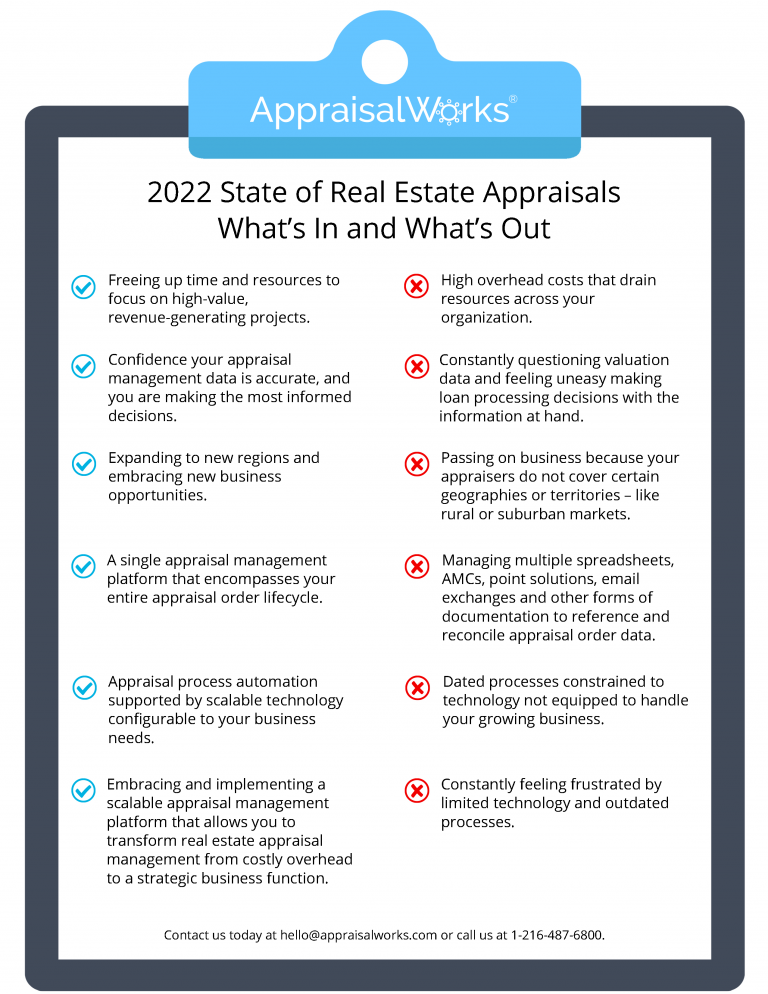 If you're just starting the journey to selecting the right appraisal management technology platform, download our guide, "Choosing the Right Appraisal Management Platform," which offers insights on the core technology features you should look for and tips for evaluating and selecting the right vendor.
If you're ready to speak to an expert about transforming your approach to appraisal management, contact us today at  or call us at 1-216-487-6800.